Couples looking for something unique and off the beaten path will find it here at our historic cottage hidden in the woods. Built in 1921, our history, architecture, and charm make for an amazing wedding experience!
Frequently Asked Questions
Will we need an off duty police officer?
---
Richmond county requires an officer at any event where alcohol is being served no matter the number of guests. Usually you will need an officer when guests start drinking till the end of the event at 10pm. On average it's about 4-5 hours @ $30 per hour payable to the officer at the end of the night. We will arrange this for you. If you are having a friend provide this service, they must be Richmond county and in uniform. The officer will not be able to leave until all of the alcohol is put away. We recommend having the DJ announce a last call around 9:30pm, and having a friend or two that can help put the alcohol away for you.
---
How are payments made? How much is the deposit?
---
Saturday Wedding - $3,500 Deposit = $500 - nonrefundable, due with signed contract 1st Payment = $1,500 + $150 for damage deposit 2nd Payment = $1,500 + $150 for damage deposit ($300 will be returned after the event if there are no damages) Friday or Sunday Wedding - $3,000 Deposit = $500 - nonrefundable, due with signed contract 1st Payment = $1,250 + 150 for damage deposit 2nd Payment = $1,250 + 150 for damage deposit ($300 will be returned after the event if there are no damages) Cash or check is prefferable. Venmo/Credit card carries a 3.5% charge.
---
What about centerpieces? Candles?
---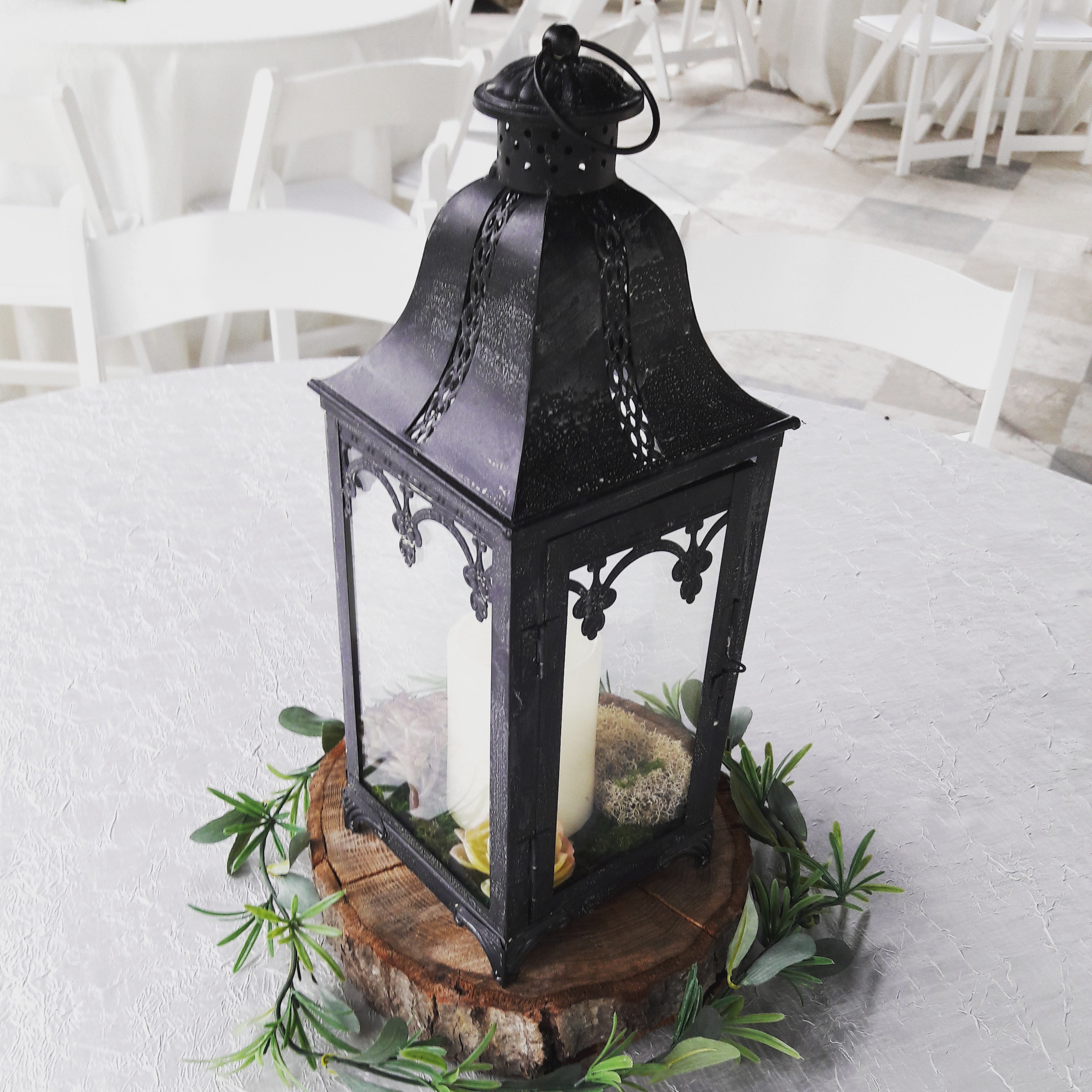 We provide crushed ivory taffeta linens at no additional charge, as well as lanterns & LED candles (see picture) that can be used as table centerpieces. We also have wood slabs to set them on, and artificial greenery if you choose not to bring your own. If you are using our linens then we ask that you do not use any open flame candles on the tables, however if you are bringing your own linens, candles are permitted so long as they are in a container of some sort.
---
What about planning for our wedding?
---
We offer two planning visits to all couples. Your first planning visit, you will want to bring family, planners, florist, and your caterer to see the space. Some brides like to come out a second time to see the venue a month or two before the wedding to tie up any loose ends.
---
What about alcohol?
---
Most couples bring their own beer and wine and set it up self serve. If you want a full bar with mixed drinks then you will need a bartender. The caterer will usually provide sweet tea and we often keep that on a separate table. One popular option is to have two signature drinks in drink dispensers, one chosen by him and one by her. Beer bottles are sometimes dropped and make the trash very heavy, so we ask that if you are not doing a keg to do always do canned beer. We also recomend a couple twelve packs for your soda drinkers/mixed drinks and the small 6 ounce clear tumblers so that people don't waste wine. We do not supply ice however we do have a freezer in the bar for ice storage. Most couples will usually task a family member or groomsman with picking up some ice. There is a sprint gas station across the street, and a Twice the Ice up the road.
---
What is your pet policy?
---
Trained service dogs must display their official Service Animal attire, must be leashed and remain with their owners at all times. Dogs or pets whose sole function is providing comfort (emotional support dogs) do not qualify as service animals under the ADA and for insurance and liability reasons are not permitted. For more information on what qualifies as a service dog, please see https://www.ada.gov/service_animals_2010.htm
---
What is the inclement weather plan?
---
Our covered pavilion is 60' x 25' and was built for intimate weddings of 100 or less. Think of it as a permanent tent. 1) It's raining all day and it's not stopping: When we built the pavilion, we made sure it was centered on the side door. The wedding party would come out the side door directly into the pavilion, and would proceed up the middle of the pavilion to the carved panels at the end. Guests would be seated at tables. We do have clear plastic curtains that can be lowered to help keep out wind and rain. 2) It's patchy rain and we're not sure what's going to happen at the time of the ceremony: We would set up the chairs in the garden and if necessary dry them off before the guests arrive. We've delayed a few ceremonies a few minutes to catch a break in the weather. In this scenario we usually open the bar so guests can enjoy a glass of wine and socialize in the pavilion. When the bride is ready we ask the DJ to ask guests to make their way to the garden area. We have separate sets of chairs for the pavilion and garden so there is never any need to move chairs.
---
Does Windsor Manor have dressing rooms?
---
We have a beautiful Bride's Boudoir with five makeup tables, separate changing room where dresses can be hung, and a private restroom with shower. There is a mini fridge with a compartment for ice so you can keep your drinks cold. We have a changing room and lounge with TV for the groom with an additional restroom across the hall. There is also a mini fridge with a compartment for ice. The guys are welcome to use the hall bathroom shower.
---
What is a typical timeline?
---
The contract for the venue is from 11am to 11pm. The gate opens at 11 and that is when your florist, baker, or planner are welcome to come start setting up. At this time, Windsor Manor will begin setting up tables and chairs for the ceremony and reception. Typical timeline: 11:00am - Bride arrives to do hair and makeup / dress 2:00pm - Photographer arrives / cake arrives 2:30pm - Groom / groomsmen arrive to get dressed 3:00pm - Caterer arrives to set up 3:30pm - DJ arrives 4:30pm - Guests being to arrive / optional cocktail hour before ceremony 5:00pm - Ceremony (garden is in shade by this time) 5:30pm - Photos / Cocktail Hour 6:00pm - Buffet / Social time 7:00pm - Cake Cutting / Dancing 10:00pm - DJ & Bar service ends / Guest Begin Departing / Cleanup begins 11:00pm - End of contract time In the summer we recommend a ceremony time of about 4:30 or 5:30 to ensure the garden is in full shade. In the Fall, we recommend a ceremony time of 4pm to 5pm. This is especially important if you are having a wedding after the time change in November as it gets darker earlier and you will want time for family photos after the ceremony.
---
What about parking?
---
Yes, we have over 70 designated parking spots for our guests. A typical wedding of 100 results in about 35 or 40 cars since most guests travel in 2s and 3s.
---
I'm a caterer. What do I need to know?
---
Welcome!!! As part of our business model, we welcome all caterers, but in order to keep an open door policy ask you to remember that guests do not understand that you are separate from Windsor Manor. Guests will assume WM is providing the food, and if there is a problem, it reflects more so on Windsor Manor than it does you. We ask that you are always friendly and courteous to guests and do your utmost to provide good service. Failure to comply with these rules or any complaints from guests will result in a permanent ban from servicing any future events at Windsor Manor.
All catering staff should have nametags with the name of your business.
All deliveries, pick-ups, setup and breakdown must occur during the client's rented time from 11am to 11pm the day of the event.
All drinks should be set up outside at the bar or on a table to avoid spills in the house.
We have an 18 pan warming oven you are welcome to use, however it is against fire code to cook or use the range/oven. All food should be cooked/prepared before bringing it to the venue.
Windsor Manor does not provide ice, flatware, napkins, cups, plates, chafing dishes, drink dispensers, etc.
Do not set anything directly on the kitchen or living room floor. The caterer is responsible for the cost of repairing any damage done to the floors and rugs due to leakage or items being dragged or pushed across the floor. You may use the sunroom to store hot boxes, coolers, etc.
CLEANUP
The kitchen and sunroom should look as clean as when you arrived. All trash/food debris must be contained in appropriate waste bags and removed in a manner that prevents spillage or drips on the way. Cleaning Checklist ________ Microwave has been wiped out ________ Refridgerator shelves if used have been wiped down ________ Kitchen floors have been vacuumed ________ Sink is cleaned ________ Countertops wiped down ________ Any tables used have been wiped down ________ Trash has been removed ________ Sunroom floor has been swept or vacuumed/spills wiped up ________ Kitchen carpets are wiped clean of spills or stains ________ Leftover food has been placed in containers ready for guests to take with them
---
What is your maximum occupancy?
---
We cater to small intimate weddings of 100 or less. 100 is the max capacity that we can seat in the pavilion. Anyone sitting down to eat at the reception is considered a guest. Your caterer, DJ, bartender etc are not included, but your bridal party/children are. Using the 75% rule, if you invite a 100 you should get about 75, but that depends on if they coming in from out of town, how well you know them, the time of year, and whether you've chosen a Friday, Saturday, or Sunday. If you are close to or slightly over the 100 max capacity, we suggest creating an A list of 100 guests and send out your invites. For those that don't RSVP, go to your B list and invite them until you have 100 RSVPs. If you don't want children increasing your numbers, include "we have reserved two seats in your honor" or "due to the presence of alcohol all guests must be 21" on your invitation. It is a polite way to say, "sorry, no kids".
---
Do you have a layout of the venue?
---
Best viewed on PC. 2nd Floor dressing rooms not shown. Click here for printable version.
---
What about decorating?
---
Most couples do nothing at all. They use our linens (crushed tafetta in ivory), cake stand, centerpieces, chairs, tables, and allow us to set it up for them. We also provide linens for the buffet table and DJ table. Others might add a table runner in their color, do their own centerpieces, or hire a florist to do centerpieces for the reception tables. Those who want to go all out will add sheers to the pergola, and maybe shepherd's hooks/bouquets up the aisle. Just remember however long it takes you to load up what you're planning on bringing, it will take you just as long to pack up. At the end of the day your friends and family are coming to see you, so don't sweat the small stuff! Fake petals have to be picked up one by one, but you are welcome to use real ones because they can be blown away with a leaf blower. Glitter / conffetti / bird seed (turns into weeds) are not permitted. Sparkler exits are okay as well as bubbles.
---
What have we forgotten?
---
We recommend bringing:
A box for the cake if the baker is not providing one
A cake knife set and a designated person to cut the cake (we have a vintage cake cutting set you can borrow).
Saran wrap / to go boxes for leftovers
Comfortable shoes for after the ceremony
Someone to help organize your bridal party and line them up if you are not using a coordinator
If you're having alcohol, cash for the officer at the end of the night
A towel if you plan on taking a shower
---
What does your Venue Attendant do?
---
During your event, someone will remain on the property and this is included in the rental price. 1. Check trash cans and empty them when necessary. 2. Make sure the bathrooms are in working order. 3. Answer any questions the caterer or DJ have while setting up. 4. Set up and break down tables, chairs, linens.
---
What is the breakdown process?
---
There is no addtional cleaning fee so long as there is nothing out of the ordinary. You: We ask our clients to make sure all trash both inside and out are in trash cans, and any personal items have been removed. Any leftovers, cake, alcohol, or decorations need to be removed before 11pm. Sometimes the caterers will clear tables during the event for you but that depends on your agreement with them. I would ask someone in the family to help with this process so you can enjoy the night. Caterer: The caterer is required to clean up after themselves and remove any of their equipment before 11pm. As we often have several events in a row, leaving equipment is not an option. Us: We will put away the chairs, linens, and any of our decorations. We will wipe down the tables, vacuum, and mop. Officer: Last call is usually announced at 9:30, last dance at 9:45 and all alcohol must be put away by 10pm for the officer to be able to leave.
---
What other amenities do you offer?
---
We have a coffee bar downstairs and a wet bar in the pavilion. We have a set of cornhole boards that guests can use. We have 2 mini fridges upstairs and provide complimentary ice and sodas for the bridal party as they're getting ready, with plenty of room for your drinks as well. We have an optional selfie nook that guests enjoy and a camera you can use. You only need to supply the film. Guests sign the photos for you to put them in a guest book at a later time. If it's cold, we have gas patio heaters.
---
Will we need a wedding coordinator?
---
It depends on what the venue provides, the complexity, and size of your wedding.
Because we cater to smaller weddings and manage the setting up and breaking down the tables, chairs, linens, and centerpieces, it is up to you to decide if you feel you need help with the rest. At the very least you will want someone in charge of lining up the bridal party. It could be a family member or someone in the bridal party. Coordinators vary in what they offer but their main services include helping to choose vendors, creating a timeline, and organizing the bridal party for the procession.
---
Can we choose our own DJ? Caterer? Photographer?
---
House DJs After many complaints about various DJs, we decided to create a list of client recommended DJs that run anywhere from $400 all the way up to $1400. Only DJs on our list that have signed an agreement with Windsor Manor are allowed to DJ events. Spinning music and running a business are two different things. Our DJs can do both. They have been vetted by other couples and are trusted to return calls, show up on time, play the music that was requested, and behave professionally. Caterers, Florist, Etc. You are free to choose whomever you like for caterers, florists, photographers etc. We have a list of vendors which includes DJ, caterer, photographers, cake etc. that is included with a signed contract to help you get started.
---
What about children at our wedding?
---
Whether or not you allow children is a touchy subject for many families. Depending on your group there might be some swearing, dirty dancing, and intoxicated guests that would not be child appropriate. No one knows your guests better than you do, so you're the best person to make that call. If you want to include children but are worried about having children unattended, we recommend getting a sitter that can keep them busy so it doesn't turn into a playground environment of chasing and screaming which can drive away guests. If you feel your wedding should be an adult only event here are some tips from previous brides on how to handle it. We have chosen a small venue with limited occupany and have reserved 2 seats in your honor. -or- Due to the presence of alcohol, all guests must be at least 21 years old.
---
I'm a guest. What do I need to know?
---
We are an outdoor venue so you will want to dress according to the weather. Our reception pavilion is partially enclosed but not heated or cooled. We provide fans/gas heaters for these areas, but only the manor itself has heating and cooling. We also recommend bringing an umbrella if it is raining and an extra pair of shoes if you are wearing heels as you will be required to wear shoes at all times. We do not allow pets. Guests may not smoke or vape inside the facility or within 10 feet of any entrance, but they may smoke away from the pavilion so long as the couple that has rented the day doesn't mind. The venue is very secluded so you will want to use GPS to find it. The most accurate GPS is google. If it tells you "you have arrived" and you don't see anything, look across the road for the 4x8 white sign that says Windsor Manor on the corner of Windsor Spring and Crosscreek Road. We are in the middle of several hundred acres at the end of the dirt road directly behind the sign. We do have 2 handicap accessible bathrooms behind our reception pavilion. The manor is old and does not have a handicap bathroom. There is a bathroom on the first floor but it is too small for a wheelchair. We plan on adding a bathroom as soon as the funds are available. If you are bringing children, anyone under 16 must be supervised at all times.
---
How do I book a wedding?
---
1) Check our view only calendar to see if we have a date that might work for your wedding. If you click on a date and it says "Busy" that means that date is already booked. 2) Set up a venue visit by using our "VISIT" link. Tours are typically 30 minutes. 3) After your tour, if you like the venue, then we will sit down and sign a contract for the date you want if it's available. We do not save dates without a deposit. Please see our frequently asked question regarding payments and deposits.
---
How do rehearsals work?
---
Rehearsals are on Thursdays and are complimentary. There is no charge and it is not included in our rental price. Times are typically 4-5, 5-6, or 6-7. Not all couples have a rehearsal at Windsor Manor. If your bridal party is not in town on Thursday, you may choose to use another location and then go to dinner. Some couples will also do a dry run when they arrive at the venue, or rely on a coordinator or friend to line everyone up and send them out the door. How do we know we even need a rehearsal? If you have a large bridal party you may want one, if it's a simple ceremony with just the couple you might not. Any tips? Tell your party to be on time. If someone is late, you will be delayed in starting and there might be a rehearsal after yours. Most weekends in the Spring and Fall are triple booked with weddings on Friday, Saturday, and Sunday. How does the processional work? From the DJ booth the DJ can see both the front door and the pergola where the cermony takes place. From the front door, someone in your party will give the DJ a thumbs up to start the music for the bridal party, who are waiting inside the Manor. The bridal party will begin the processional, and once seated/in position, the DJ will turn the bridal party's song down. The DJ will then start the song for the bride who will be waiting in the foyer and probably watching the processional. When the bride is in place, he will turn the bride's song down and the officiant will begin. After the ceremony the DJ will play an exit song and the newly wedded couple and bridal party will exit the ceremony area to the side garden for photos. Guests will be asked to gather at the pavilion for drinks by either the officiant or the DJ.
Does the DJ come? Never Does our officiant come? Sometimes How long do we have? An hour on a non event day Do we need a coordinator? That is really up to you. Some of what Windsor Manor provides and what coordinators provide such as set up and break down overlap. If you have someone in your party that wants to organize everyone that is also an option. What time are rehearsals? It depends on the time of year, but usually they are from 4-5, 5-6, 6-7, but remember in the late fall it gets dark earlier.
---
I'm a decorator/coordinator. What do I need to know?
---
The use of nails, tape, glue, command hooks, or anything sticky is forbidden. Florists wire or zip ties are not a problem. We are unable to lend ladders. We do not allow the packing up / removal of linens or centerpieces until 10pm or all the guests have left so plan accordingly. We feel it sends the message to the guests the wedding is over and you're in our way when decorators pull the linens off the tables guests are still using. Anything you bring with you will need to be taken the same night. Moving furniture, artwork etc is not allowed. Cutting our greenery or flowers is not allowed. Candles on our linens are not allowed, but if you bring your own linens and they are in an enclosed container it is not a problem. If you are lining the processional with flower petals, those may need to be picked up if we have a wedding the next day. They cannot simply be leaf blown away. Fake flower petals cannot be leaf blown away either so those must be picked up as well. Silly string, confetti, or sparklers are not allowed. Guests will assume you work for our venue so please always be courteous and friendly. We are a private facility and our contract gives us final say on vendors. Failure to follow these rules, or if a guest complains about your attitude, will result in a complete ban.
---
---